Memoir I am
A show about the Alzheimer's desease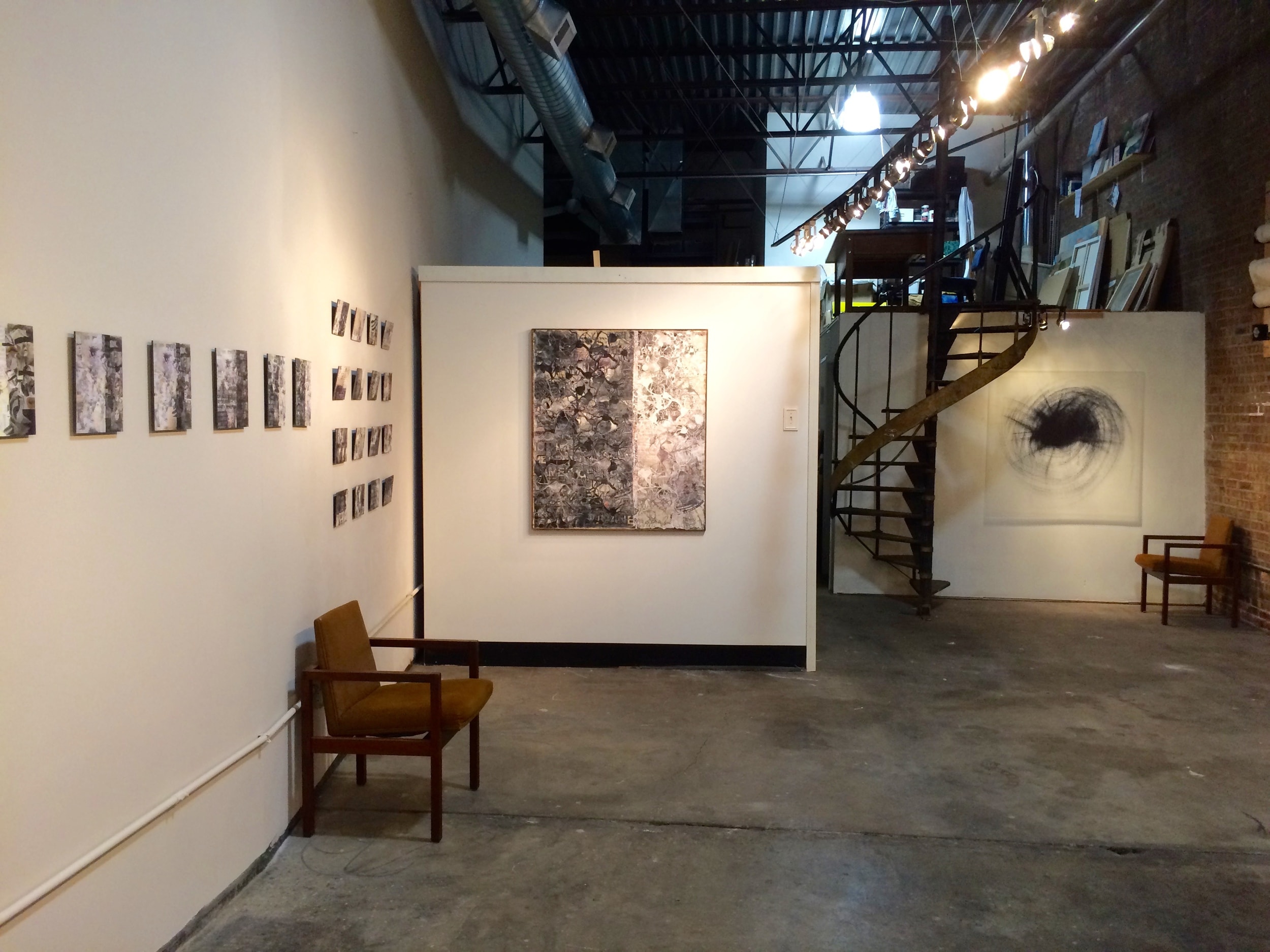 Solo show on 1610 Payne Street in Evanston.
2014
"unforgettable moments" from the series "Alzheimer stories".
ink drawing on paper, 40 x 26 in
A moment he would have loved to remember. Ronald Reagan sitting between Nancy Reagan and Marilyn Monroe.
Blanc
2014
Blanc from the series "Alzheimer stories".
The gaze goes out into the void. The features mirror worries, vulnerability and grief but the eyes are empty. Infinitely delicate is the ink distributed, a curved fine line narrows into shadows and dissolves in other places to nothing.
The face of an Alzheimer's patient with no name, unknown but familiar. The contours dissolve towards the edges and where the center of reason should be, grows a web that leaves the cranium and develops its own existence out of human control. The glance of the observer is drawn to the eyes that have now nothing behind them anymore that could explain the world in front of them. They are vacant, the soul drained.
'Zwischenraum'
Der Blick geht ins Leere. Die Gesichtszuege spiegeln Sorge, Verwundbarkeit und Trauer wieder, aber die Augen, die Spiegel der Seele, sind leer. Unendlich fein ist der Farbauftrag, eine zarte Linie in Kurven verengt sich zu Schatten und loest sich an anderen Stellen auf ins Nichts. Das Gesicht einer Alzheimer Patientin, namenlos, unbekannt und doch vertraut. Die Konturen loesen sich zu den Raendern auf und dort, wo die Zentrale des Denkens sein sollte entwickelt sich ein Gespinst, das die Schaedeldecke verlaesst und ein Eigenleben entwickelt, woreuber der Mensch keine Kontrolle mehr hat. Immer wieder wird der Blick des Betrachters auf die Augen gezogen, hinter denen sich nun nichts mehr befindet, was die Welt im Gesichtsfelt erklaert. Sie sind verlassen, die Seele entleert.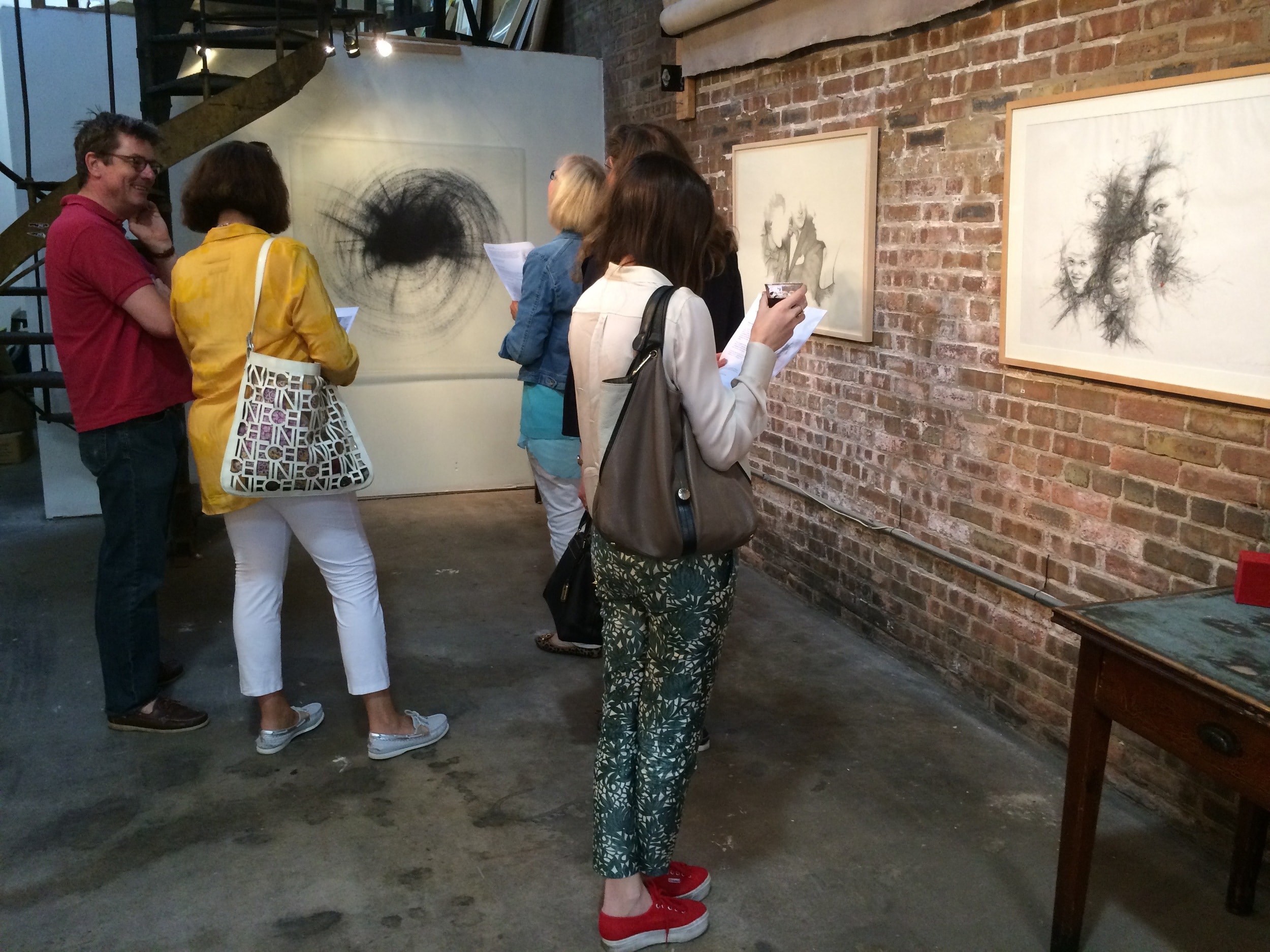 2014
Who's next, from the series Alzheimer stories
44 x 35 in, ink on paper
The template to this drawing is a film still of actor Ronald Reagan, in the movie Law and Order.
Ronald Reagan, in his late years of his presidency, suffered from Alzheimer's disease.
4:50 f om Pad ing on
2014
4:50 f om P add ng on
ink on paper, 40 x 26in
A film still from 4:50 from Paddington shows Miss Marple gazing out of a train window. In the movie this is the defining moment where in a split second the sharp and vigilant detective witnesses a murder in a passing train. But the view through the window is blank. The cognizing observation transforms into an empty stare. Something happens so fast that the mind isn't sure if it really took place. Uncertainty replaces knowledge, foreshadowing the actress's fate in real life.
Margaret Rutherford, who played Miss Marple, died 1972 at the age of 80 of Alzheimer's.
'What was I going to say?'
2014
'What was I going to say?'
ink on Xerox, 40 x 26in
For 'what was I going to say?' the artist is changing the vantage point. The viewer is not observing the patient but is put in her place. It depicts the moment when the words slip the mind, when a sentence was begun and the thought that started it is no longer accessible. You try hard to remember and with every passing moment the situation gets more uncomfortable for both sides. The struggle of the speaker is mirrored in the faces that stare back. They display amusement, impatience, pity and doubt. An unsettling scene that is familiar to many and the only hope is that the moment will pass.